McLaren did it: The British Traditional Team went for the first time to the Belgian Grand Prix 2020 in Spa with a new floor of the 2021 generation. McLaren was thus the first Formula One team to try out the new rules practically on the race track –if only briefly.
Carlos Sainz left only a few kilometers behind in the morning unit on Friday, but McLaren should have provided a lot of data for the evaluation, so that the engineers of the racing stable can continue the development work.
McLaren team leader Andreas Seidl had previously stated that his team would like to try experimental aero parts for later in the year". And that is exactly what has happened.
What is different about the floor 2021
What is different about the new floor for 2021? Answer: the area directly in front of the rear wheels at the outer edge of the floor. So there, where more and more cuts and even holes were found last.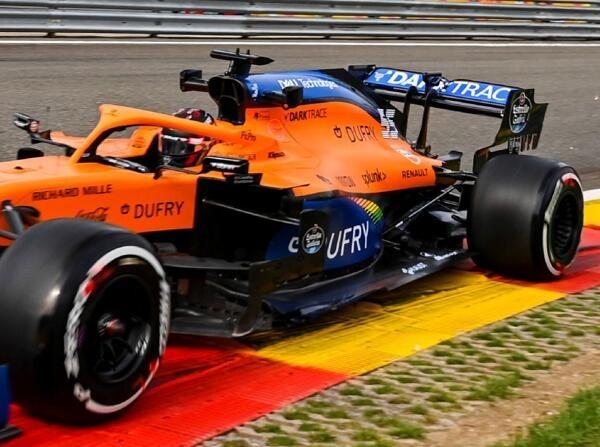 McLaren with the new floor of the generation 2021 in training in Spa
From 2021 this piece presents itself much narrower and rejuvenates towards the rear suspension, as our photo shows. There is therefore a missing approximately triangular section in front of the rear wheels.
By cutting the aerodynamics of the ground floor, the World Association of Motor Vehicles (FIA) promises an inhibition of the vehicles that will drive 2021 in the third year with the Formula-1 tyres, which were originally only intended for use in the season 2019. The power removed is intended to equalise the gains achieved since then.
What is the deficit on the Formula One teams
Since 2017 the teams had made use of these cuts and holes in the floor, In order to minimize air turbulence of the front wheels before encountering the diffuser in the rear of the vehicle.
In addition, an attempt has been made to manage the air flow more efficiently around the rear wheels so that the diffuser can be optimally fed. Both are severely limited by the innovations for 2021.
The floor modification is a regulatory change to the formula-1 cars, which are otherwise widely used with stand 2020 also in the season 2021, for cost reasons as a result of the Corona crisis, because the new formula-1 regulation was moved to 2022.